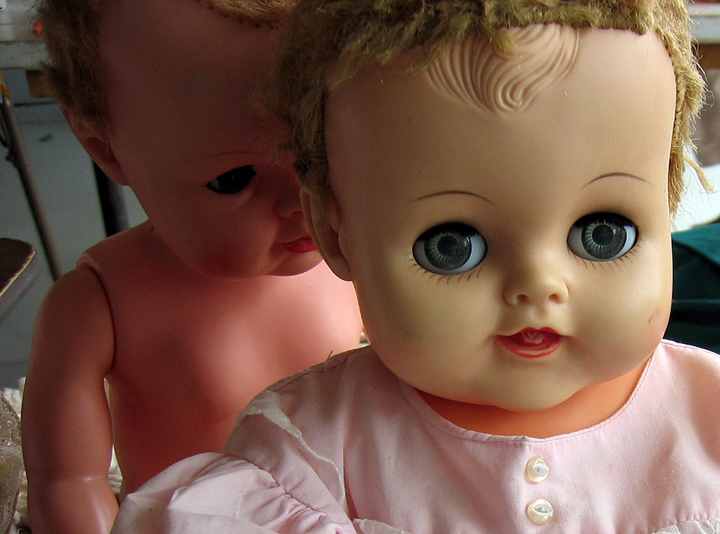 This post from Max Barry is too good to not share. It starts like this:
This has been a great year for male writers, with women shunted aside for major prizes and all-new hand-wringing about why it is so. Because, I don't know if you've noticed, but male writers get taken more seriously. Also, stories about men, even if written by women, are considered mainstream, while stories about women are "women's fiction." This despite the fact that women read more than men, and write more, and are over-represented generally throughout publishing.
Let's go to V.S. Naipaul for the sound byte:
I read a piece of writing and within a paragraph or two I know whether it is by a woman or not. I think [it is] unequal to me. And inevitably for a woman, she is not a complete master of a house, so that comes over in her writing too.
I mentioned this particular quote to a fairly successful male writer last month and he took a little umbrage to the suggestion that women writers are being underrepresented by the award and anthology circuits. Being a white guy writer, he has a harder time seeing the bias. I encouraged him to prove me wrong with cold hard facts, sir, and I would join his umbrage! Umbrage for all! Wait, I have some facts, I can whip up a handy graph right this minute from the last 6 years of Best American Short Stories data.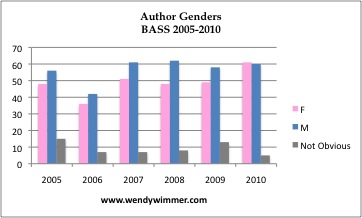 So much for the umbrage.
(We both agreed that V.S. Naipaul is cranky and old and probably smells like couch cushions.)
Thankfully, my generation of male writers isn't suffering from Naipaul-esque sentiments, or at least they aren't saying them out loud, but I have a hard time understanding why this divide exists.
Then I polled a few writers on who their favorite authors were, and the female writers answered with a mix of male and female authors while the male writers (with one single exception) replied with a list of male names. And these are men whose work I enjoy and who, if asked, would likely label themselves as being open-minded to equality, would vehemently defend a female writer's work and might even use the term "feminist".
Here's a random listing of the favorite authors on five Fictionaut profiles, which is a bit more formal and premeditated than my informal poll at Writer's Camp. Can you guess which of these respondents are male and which are female? Click the * to see if you guessed right.
Ernest Hemingway. Raymond Carver. T.S. Eliot. William Carlos Williams. Charles Bukowski. a few Billy Collins. a few Jack Gilbert. Walt Whitman. Emily Dickinson. Roberto Bolano. *

I, Lucifer by Glen Duncan is one of my favorite books. Also, The Once and Future King written by T. H. White, Chuck Palahniuk, Raymond Carver, Tobias Wolfe, Anne Sexton, Jim Morrison, David Mamet and many many more. *

I love James Salter, Charles Baxter, Mona Simpson (mostly for her short story "Lawns"), Samantha Hunt, Amy Bloom, Maile Meloy. I buy lit journals with any pocket money I ever have, and Lolita will probably be my favorite novel forever and always.*

Iain Banks, Candas Jane Dorsey, Margaret Atwood, Jonathan Carroll.*

So many: Aimee Bender, Louise Erdrich, Jayne Anne Phillips, Kurt Vonnegut, N. Scott Momaday, Francine Prose. Some favorite books: The Particular Sadness of Lemon Cake, Tinkers, Four Corners, The Great Gatsby, on and on…*
Did you guess right?
This has much to do with what Max Barry called the problem of Dogs and Smurfs.
Male is default. That's what you learn from a world of boy dogs and Smurf stories. My daughter has no problem with this. She reads these books the way they were intended: not about boys, exactly, but about people who happen to be boys. After years of such books, my daughter can happily identify with these characters.

And this is great. It's the reason she will grow into a woman who can happily read a novel about men, or watch a movie in which men do all the most interesting things, without feeling like she can't relate. She will process these stories as being primarily not about males but about human beings.

Except it's not happening the other way. The five-year-old boy who lives up the street from me does not have a shelf groaning with stories about girl animals. Because you have to seek those books out, and as the parent of a boy, why would you? There are so many great books about boys to which he can relate directly. Smurf stories must make perfect sense to him: all the characters with this one weird personality trait to distinguish them, like being super brave or smart or frightened or a girl.
I get it now. Women writers are Smurfette, in a sea of dogs who are male by default. George Elliott figured this out years ago, this is no surprise.
Remember my informal poll of sensitive male writer types? It's worth noting that on Max Barry's list of 20 favorite books, there are but a few Smurfettes.