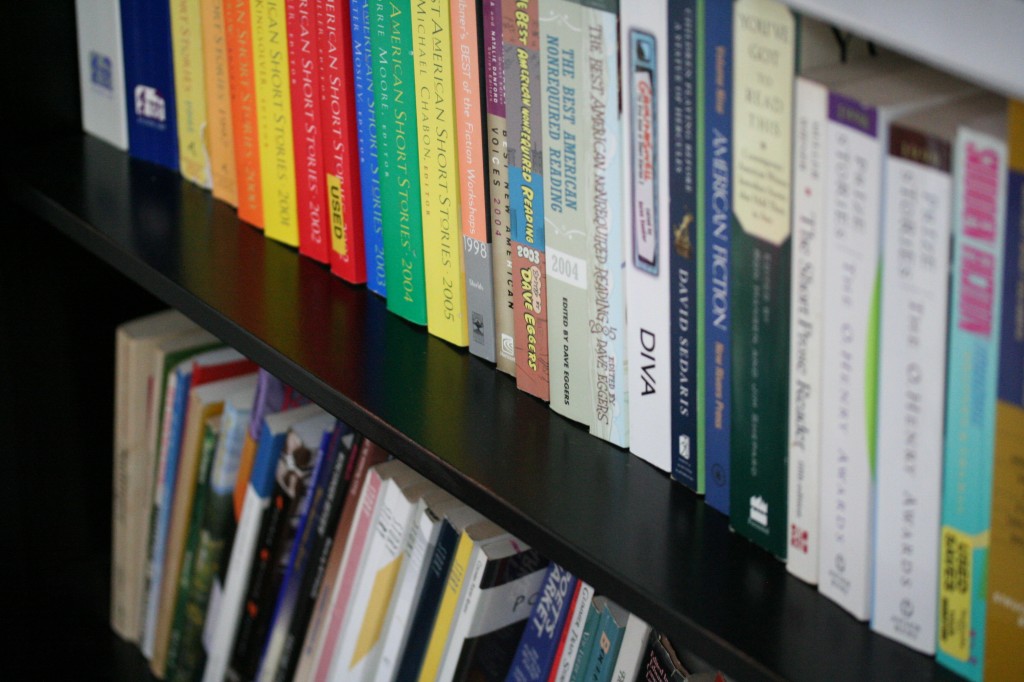 This is Part One of a series analyzing the Best American Short Stories anthologies from 2005-2010.  For part two, read "The top five best BASS markets for women writers (and five not-so-great)"

I'm one of those creepy writers who are less right brained and more perfectly balanced brained. It's possible that I have a split personality and don't realize it, that my inner mad scientist goes off and plots for world domination when my free spirit poetic right brain has control of the wheel. I dunno. But let me show you something cool with statistics for a second. I promise, it won't hurt.
I'm fascinated with the Best American Short Stories anthology. I bought my first one in 1993 shortly after declaring myself an English major with a creative writing emphasis and have purchased every anthology since, some of them in hardcover because when someone I love is choosing the stories, I can't possibly wait for the paperback.
I'm kind of fascinated with the whole process. I envision months of reading journal after journal, polling writer friends and editors. I don't know why but I used to think of the process like the scouting scene in A League of Their Own where a big city scout sits through hundreds of little backwater games trying to find that one kernel of wheat amongst the chaff.
I decided that I'd know I made it as a writer if one of my short stories made it into the BASS.
One day, reading the Stephen King edited collection while home from work sick with the flu, I got it into my brain that I should treat the BASS like I did a Six Sigma project. Since the BASS selection process is out of my control, I could analyze the post-production data. After all, you kept seeing The New Yorker and Glimmer Train mentioned time and again as sources for stories, so if you could get your stories into one of those journals, then you'd have a better shot, right? But the thing is, every writer knows about The New Yorker and Glimmer Train being super important places to showcase fiction… what about the rest of them? Maybe I'd discover some great little journals to focus on with my so-called "emerging writer" fiction.
I decided that a good cross-section that was viably accurate would need at least two BASS samples, what we call a census. I'd catalog every story published in the BASS. Ok, that was 40 entries. Not good enough for my internal mad scientist. I flipped to the back, where they listed 100 Notable Short Stories for that year. Brilliant! I typed them all into my spreadsheet too, noting whether the story was actually published in the anthology or if they were just honored as being a notable story. Looking at my data, I started to notice a weird thing: there were a WHOLE lot of male names in the author columns. In fact, it seemed disproportionate as I glanced over my numbers. I had happened to pick two years that had male editors, so I wondered if it would be different with a female editor. Sigh. Another 120 entries into my spreadsheet. I ran some quick analysis and… hrrmm.
I still didn't have enough data. Luckily, I live in a state that experiences 11 months of winter and also, I'm a really fast typist. Had I known about this public database of all the BASS published stories going back to 1978, I might not have gone so crazy, but I didn't know about it, so crazy I went.
After I finished typing six years of BASS authors, titles, and journals, comprising 680+ lines of data, I thought I would have had at least three hundred literary markets to focus on and research as potential places to submit my own fiction. Sure, the biggies would have multiple appearances, but what I didn't expect is that over the spread of 6 years, only 111 journals were represented.
Surprised? I was kind of shocked. Many journals were only touched once, with biggies like The New Yorker and Tin House taking up the whopping percentage, so using the concept of a pareto chart, I took a look at the top 80 percent. Here's where it got a little queasy.
Also, before we get started, a confession: I really had to think about whether I wanted to share this information with the world, because it's actually kind of super-charged info. I mean, if there really is a way to game the system to get a story into the BASS (or improve your chances anyway) then there are only a limited number of spots in both the BASS and the journals represented therein. The fewer writers knew about those BASS secrets mean that my stories have a better shot of being selected by the respective editors. But on the other hand, hopefully by exposing what I'm seeing here, the Hawthorne effect will cause a change in the BASS selection process, hopefully resulting in a spreading of the love, so to speak. One would hope, anyway. Also, it's not like what I'm revealing is KFC's eleven secret herbs and spices or anything. It's all printed in the BASS, so anyone could have (and probably has) compiled this data on their own.
The top 80% of all published stories in the BASS 2005 through 2010 as well as notable stories mentioned in the back pages came from the same 42 journals.
Check it out. I made a graph because writers sometimes get cross-eyed looking at numbers. I only included those with 7 or more stories published/notables because otherwise the text would get too squishy to read them but you get the idea. It shakes out to be a breakout of the sources of the top 70% of all stories mentioned or published in the last six years of the BASS. (Well, technically it's 72.8%.)
Ignore the header in this graphic, it's actually BASS '05 to '10, not '06.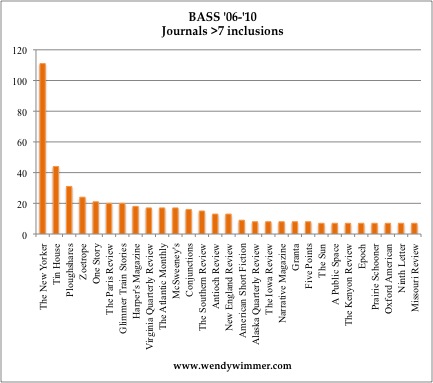 Keep in mind: I'm not saying that these literary markets are better than other markets. They are simply the literary markets most represented in the BASS 2005-2010.
Some eye-poppers there, huh? Quite honestly, I was surprised Granta was so low and that McSweeney's is so high. I love both of those journals dearly but I would have guessed they would have been flipflopped in the rankings, personally, just because McSweeney's is kind of the hipster of the crowd and let's face it, I didn't expect younger journals to do as well as old faithfuls like Granta and I certainly didn't expect Granta to be paced by frickin' Narrative Magazine.
If you like to look at actual numbers, there's a table of the same data, broken out by year so you can see how certain years are unreasonably skewed (check out Ninth Letter, for instance) at the bottom of this post.
Did you notice that over half of the BASS stories come from just 12 journals? Yup, 356 stories from the same twelve publications. Apparently those BASS editors love them some New Yorker, Tin House, Ploughshares, Zoetrope, One Story, The Paris Review, Glimmer Train, Virginia Quarterly Review, Atlantic Monthly, Harper's, McSweeney's and Conjunctions. And who can blame them, but wow… half? HALF?
You know, there are a lot of fantastic publications out there. Hobart. Post Road. Artifice. Aren't they publishing even one piece of BASS-worthy fiction? Or are they even getting considered?  I mean, I don't expect it's the responsibility of the Houghton Mifflin to save every wonderful little lit journal from going out of business but show them a little love? Hell, I'd be happy to buy Heidi Pitlor a subscription or two if that's the problem.
I'm really hoping to believe that there's only so many pages one can read in a single year, but come on… TWELVE JOURNALS?
But wait, there's more shockers to unfold. I have some interesting findings to share with you in upcoming posts regarding genders of authors who are included in the BASS. Stay tuned!
PS. Here's that table I promised you data junkies in the bunch (all two of you).
| | | | | | | | |
| --- | --- | --- | --- | --- | --- | --- | --- |
| | 2005 | 2006 | 2007 | 2008 | 2009 | 2010 | TOTAL |
| The New Yorker | 31 | 18 | 8 | 14 | 22 | 18 | 111 |
| Tin House | 7 | 8 | 4 | 5 | 10 | 10 | 44 |
| Ploughshares | 5 | 9 | 5 | 5 | 4 | 3 | 31 |
| Zoetrope | 5 | 7 | 4 | 4 | 3 | 1 | 24 |
| One Story | 4 | 5 | 2 | 2 | 4 | 4 | 21 |
| The Paris Review | 5 | 3 | 1 | 5 | 3 | 3 | 20 |
| Glimmer Train Stories | 1 | 1 | 9 | 1 | 1 | 7 | 20 |
| Harper's Magazine | 4 | 1 | 3 | 6 | 3 | 1 | 18 |
| Virginia Quarterly Review | 6 | 2 | 5 | 3 | | 1 | 17 |
| The Atlantic Monthly | 1 | 2 | 4 | 5 | 1 | 4 | 17 |
| McSweeney's | 2 | 4 | 2 | 3 | 3 | 3 | 17 |
| Conjunctions | 6 | 1 | | 3 | 3 | 3 | 16 |
| The Southern Review | 2 | 1 | 1 | 6 | 4 | 1 | 15 |
| Antioch Review | 1 | | 4 | 5 | 2 | 1 | 13 |
| New England Review | 1 | | 1 | 3 | 4 | 4 | 13 |
| American Short Fiction | | | 1 | 2 | 4 | 2 | 9 |
| Alaska Quarterly Review | | 2 | 2 | | 2 | 2 | 8 |
| The Iowa Review | | | 3 | 2 | 1 | 2 | 8 |
| Narrative Magazine | | | | 1 | 4 | 3 | 8 |
| Granta | 3 | | 2 | 1 | | 2 | 8 |
| Five Points | | 1 | 3 | 1 | | 3 | 8 |
| The Sun | 1 | | 5 | | 1 | | 7 |
| A Public Space | | | 3 | 1 | 1 | 2 | 7 |
| The Kenyon Review | | | 2 | 4 | | 1 | 7 |
| Epoch | | 2 | 2 | 2 | | 1 | 7 |
| Prairie Schooner | 1 | | | 2 | 1 | 3 | 7 |
| Oxford American | | | 5 | 1 | | 1 | 7 |
| Ninth Letter | 6 | | | | | 1 | 7 |
| Missouri Review | | | 2 | 3 | | 2 | 7 |