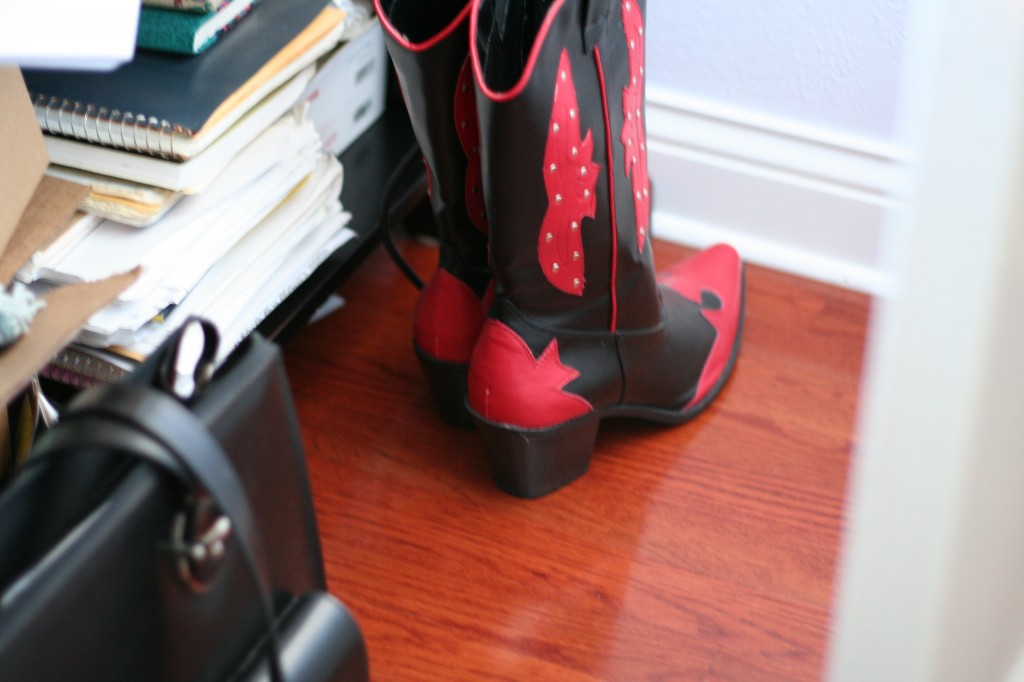 I should totally write a manifesto. Except that it seems exhausting and, you know, like work.
So instead, I will tell you about my recent heartbreak. It is this: a few weeks ago, I went shopping for a birthday present for a friend and I found nothing. Or rather, found a lot of things for myself, the most important of which being a rocking pair of black cowboy boots decorated with red flames. Marked down 70% and then 50% off of that, which brought them to the lovely price of $16.
Normally, when I find such buys, they are not in my size, but not this day and I snatched them up and then did a little dance in the aisles of the store. It did not occur to me at that moment that I have almost zero opportunities to wear such masterpieces of footwear (red FLAMES), mostly because tragically I am not Patsy Cline nor do I have a stripper routine choreographed to 'Save a Horse Ride a Cowboy'. I sort of want to pair them with my suit for my next big important meeting in Shermer, walk into the boardroom, put a leg up on the projector, and yell 'Yeeeehaw'. Because if anything's going to get me promoted, it will certainly be that.
Except for reasons that I will not even pretend that you will believe, I had not actually tried them on until today, when I was sort of filled with ennui and hating humanity (for many reasons, least of which is that my Wallet Chain boyfriend got eliminated from American Idol' holy fuck did I just type that? Because I can't believe it either) and thought: hey, I'll stomp around the house in my boots! That will cheer me up. So I took them out of their box, hiked up the leg of my jeans and then tried shoving my foot into one.
It wouldn't go.
This didn't make sense. After all, it was my left foot. My good foot. Nay, my less 12C and more 11.5B foot. Clearly I was having a bad sock day.
I pulled on the shaft (heh heh) and felt the sickening twinge of my nail bending backward, threatening to break, so I let go and then stomped around on it. Finally, I managed to cram my foot into it, but the zipper refused to budge.
The world. My world. Oh fuck the world. Ennui!
So much so that I'm going to stop writing this right now.